By GRACE DETWILER
Directed by Robert Woods
Written by Tyler Jacob Jones
Starring Nadia Collins, Evan Williams, and Naomi Brockwell
Sandbox Productions
While it may be easy to underestimate Robert Woods' directorial debut AN IDEAL HOST in its quaint but amusing first half, to do so would be a deadly mistake. Featuring all the paranoia of alien parasite flicks like The Thing and Invasion of the Body Snatchers crossed with dinner party disasters like Coherence and The Invitation, AN IDEAL HOST pulls no punches in its gory third act with violence so unexpected it might turn even the most seasoned of horror fans' stomachs. Delightfully funny one moment and nauseating in the next, AN IDEAL HOST has an unmistakable draw that is sure to satisfy any genre devotee. 
Having recently moved to a large farm property in her tiny hometown, Liz (Nadia Collins) and soon-to-be fiancé Jackson (Evan Williams) are planning to host a 'surprise' engagement dinner with the friends they grew up with. Everything seems to be going according to Liz's neurotic plan until Kyle (Daniel Buckle) shows up with the heavy-drinking Daisy (Naomi Brockwell), Liz's ex-best friend. As tensions mount between the group, and the lead-up to Jackson's proposal is steadily derailed, full-on horror begins to eclipse the film's light comedy when an unexpected guest from another world makes an appearance.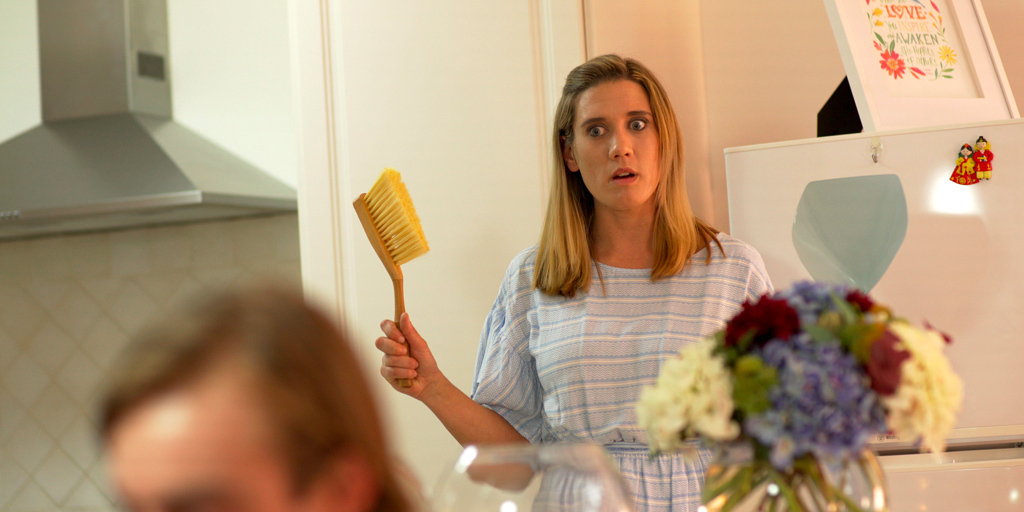 Rather than being hindered by its low budget or indie sensibilities, AN IDEAL HOST takes advantage of its stageplay-like structure, performances, and setting, culminating in an increasingly unhinged long-take at the film's climax. Once the aliens' presence is revealed, AN IDEAL HOST devolves into a gnarly fight for survival for Liz, who is left to determine which of her friends is who they say they are, and who has been overtaken by the squirmy little invaders. As the guests break out knives, broken wine glasses, and even a crème brûlée blowtorch, AN IDEAL HOST boasts stunning practical gore effects and a conclusion that adds Liz to the pantheon of "she did that!" horror heroines. 
Screening now as a part of the Panic Fest '21 lineup, AN IDEAL HOST is a must-see for any lovers of the film's clear cinematic inspirations listed above. As one of the rare horror-comedies that manages to be wholly both horror and comedy, AN IDEAL HOST slow burns into one of the most intense displays of violence in recent memory. While giving any more information is sure to ruin the first-time viewing experience, to give you a taste of what's in store, keep an eye out for a protruding bone used as an unlikely weapon…