By GRACE DETWILER
Directed by Pat Mills
Written by Alyson M. Richards
Starring Tommie-Amber Pirie, Sarah Allen, and Aaron Ashmore
Quiver Distribution
As the writer and director of THE RETREAT both acknowledge in their notes on the film, progress surrounding the LGBT+ rights movement has never been so prevalent, particularly in big cities. Yet, as Alyson M. Richards' screenplay explores, the lives of queer-identifying individuals remain in danger in many rural regions of North America, which THE RETREAT's lesbian protagonists learn all too literally when the backwoods neighbors of their 'gaybnb' start hunting them for sport. Richards' script is an angry one, inspired by personal experience and directed just as viciously by queer filmmaker Pat Mills. "The idea for the film originated when my wife and I spent the night at a remote wilderness retreat in the middle of nowhere," Richards writes. "We were hyperaware of…a vulnerability we felt not just as women but also as queer women. We were at the mercy of our surroundings and strangers we weren't sure we could trust." 
The first act of THE RETREAT plays almost exactly like a queer version of Jordan Peele's Get Out; a lesbian couple travels to a secluded cabin for a weekend getaway with their soon to be married friends Connor and Scott, another gay couple who are mysteriously absent when Renee and Valerie arrive at their destination. The women even get a flat tire, a blatant call-back to Daniel Kaluuya's deer collision on the way to visit his white girlfriend's parents. However, as viewers will know from the opening scene, Connor (Chad Connell) and Scott (Munro Chambers) have in fact already fallen victim to the Most Dangerous Game-inspired homophobic hunters stalking the cabin's inhabitants from their deer stands and camouflaged blinds.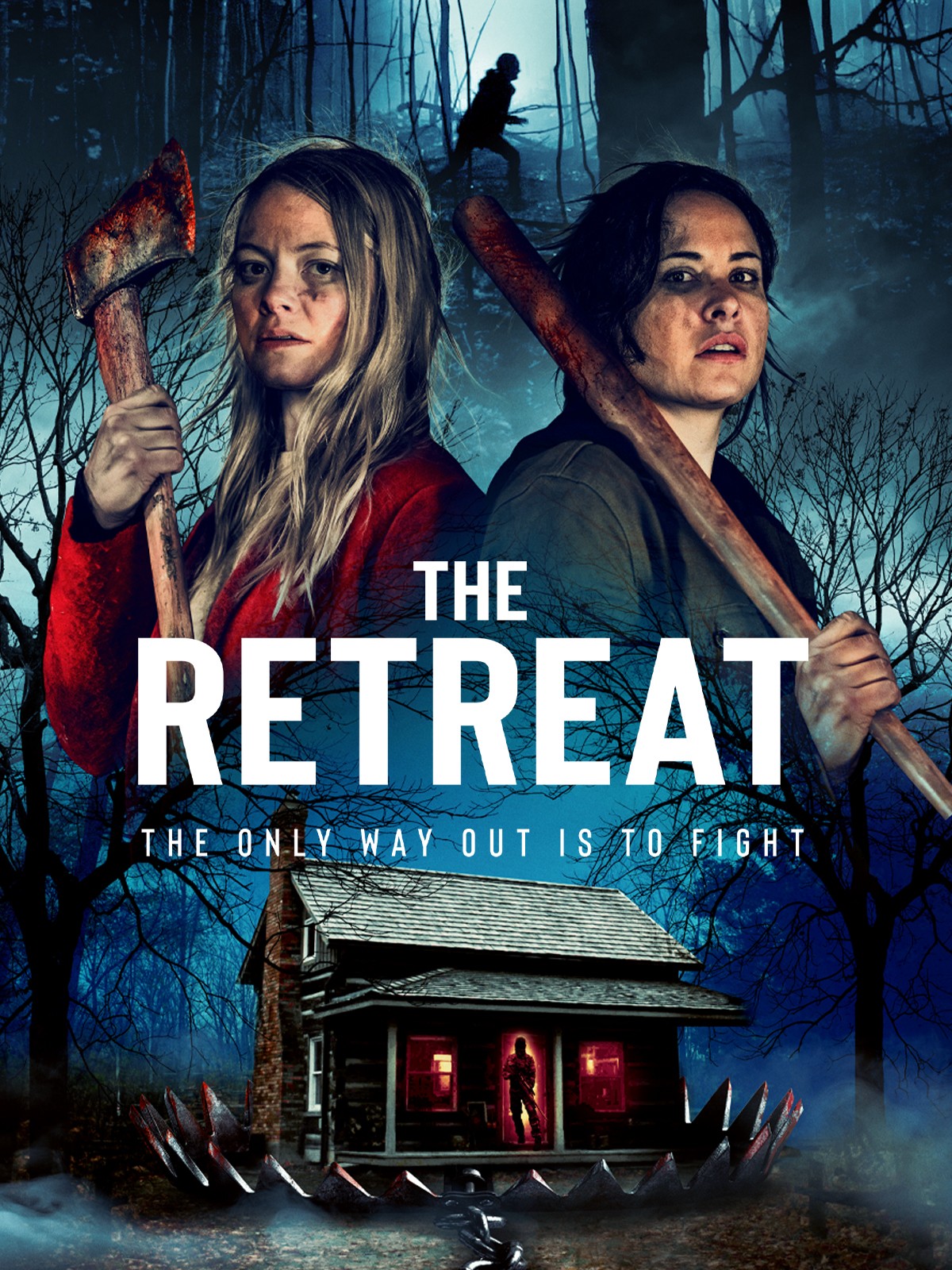 THE RETREAT wastes no time with its set-up, the horror has already kicked fully into gear around the 20-min mark when the synopsis-described 'militant extremists' have set their plan in motion to capture, torture, film, and kill any gay people who dare to encroach upon their heterosexual redneck wooded oasis. THE RETREAT intentionally avoids any of Get Out's dark comedy, placing all its eggs in the disturbing basket of the real-life horror of queer women being violently hunted specifically because of their sexual orientations. While the film's expectation that Valarie (Sarah Allen) and Renee (Tommie-Amber Pirie) would simply traipse off into the woods when their housemates are nowhere to be found feels a little far-fetched, their relationship's realistic couple dynamics and conflict keeps THE RETREAT grounded in a world that queer viewers are sure to recognize as their own. 
THE RETREAT is sure to be a controversial film, particularly for straight audiences. Yet the film serves as an effective recycling and reclamation of the age-old 'bury your gays' trope in genre film. While the film is unfortunately brutal towards its gay male characters, once Renee and Valarie are able to turn the tables on their attackers THE RETREAT becomes a satisfyingly violent revenge film born out of a tried and tired slasher premise. In a final similar move to Get Out, THE RETREAT's sharp satirical knife is pointed most directly at one of the killers' complicit wives, pointing out the particular role white cishet women play in perpetuating homophobic and patriarchal norms and structures of power. 
THE RETREAT's central leads are a treat on-screen; Pirie and Allen's performances provide the heart, soul, and (most importantly) brain behind the film's ultimate success as an example of subversive queer horror. There are certainly moments where THE RETREAT's prioritization of brutality and terror eclipse its socio-political messaging, yet the couple's vengeful payoff eventually redeems what may be potentially triggering content for some queer viewers to witness. "Time to cull," Valarie fittingly declares once she and Renee gain the upper hand. Skillfully directed by Mills – with the only technical shortcoming being the hard-to-see night sequences – THE RETREAT is certainly worth seeing for any lovers of survival horror, regardless of identity. 
THE RETREAT is available on VOD in the US and Canada Friday, May 21st, 2021 from Quiver Distribution.