By GRACE DETWILER
Starring Victoria Pedretti, Henry Thomas, and Oliver Jackson-Cohen
Created by Mike Flanagan
Netflix Original Series
Without Mike Flanagan's The Haunting of Hill House, it is entirely possible I would never have started writing about horror at all. I was a casual consumer of the genre, a Halloween passer-through. Yet, even before I was an official "horror fan," I had been watching horror television. I loved Buffy the Vampire Slayer, American Horror Story, and (admittedly) Supernatural back in its heyday. However, after watching Hill House back in 2018, I had a revelation about what horror television could be, and what the horror genre in general could mean to me. It sparked in me a true love of horror, and a love of the series' pitch-perfect balance between emotional depth and unsettling scares. I have since seen Hill House more times than I care to admit, and therefore could not exaggerate my excitement upon hearing that the Netflix Original would be returning for a second season – a second chapter in Flanagan's anthology, THE HAUNTING.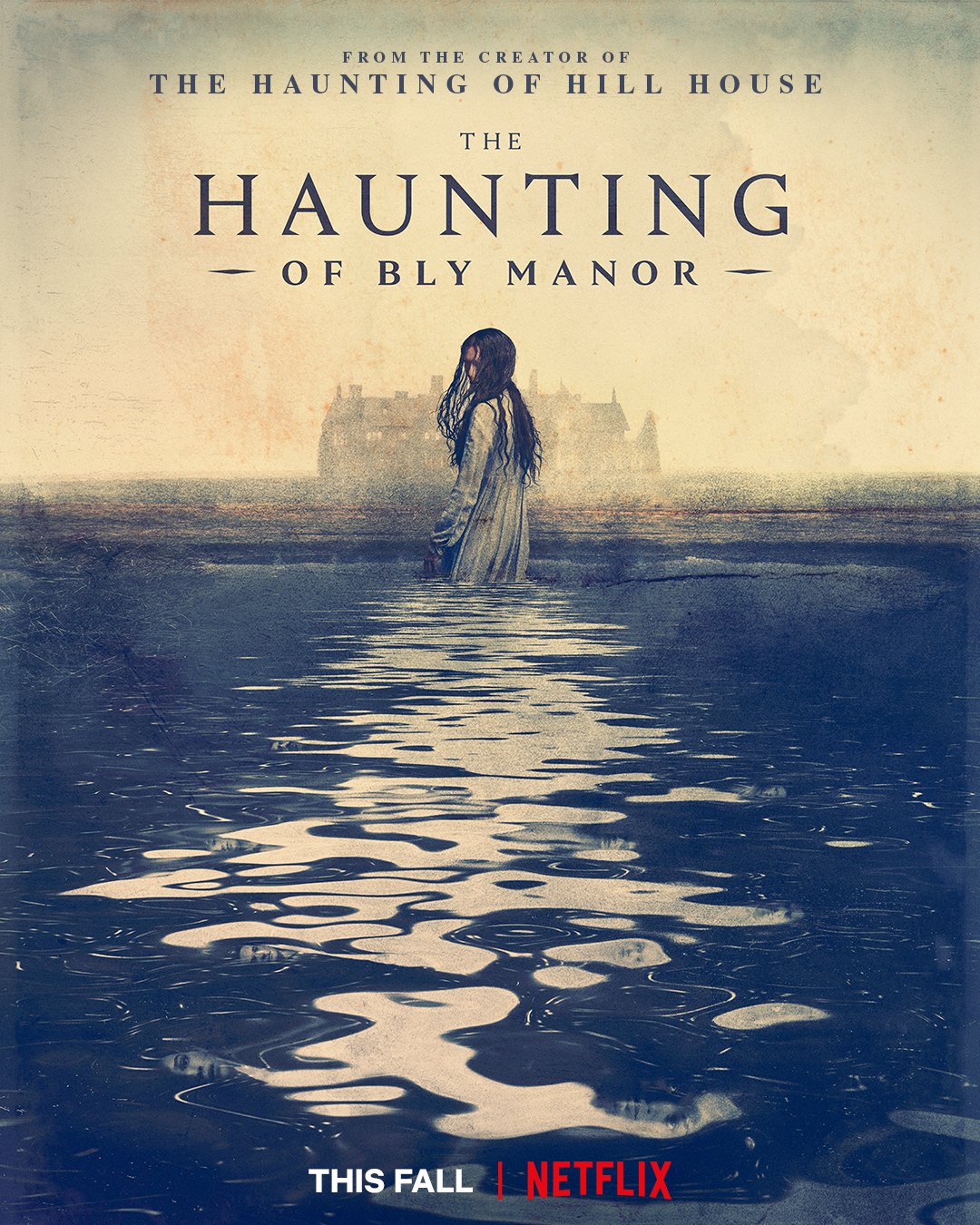 It is likely that most future viewers of BLY MANOR were first introduced to the story of Henry James' The Turn of the Screw in the 1961 film adaptation, The Innocents (dir. Jack Clayton). You may be skeptical, at first, of how this seemingly dated story of possessed children could be updated for the horror landscape of 2020, but THE HAUNTING OF BLY MANOR delivered. Flanagan and company made the right call to include Hill House cast members in this second chapter (as well what may almost be the same house interior…); it truly does feel like coming home to a familiar fictional world. BLY MANOR even uses this familiarity against you, forcing the viewer to see the faces of the Crain family in a new, different, and often sinister light. In addition to dramatizing The Turn of the Screw, BLY MANOR also incorporates elements of other Henry James short stories, namely "the grinning doppelgänger of The Jolly Corner [and] the ghostly vengeance of The Romance of Certain Old Clothes," to quote Flanagan himself. These additions to the base story feel necessary, adding the extra scares that a viewer in 2020 would desire.
"Gothic Romance, it turns out, has teeth…and we have had a blast sharpening them for you all." – Mike Flanagan
Returning as the American au pair tasked with caring for the Wingrave siblings (Amelie Bea Smith & Benjamin Evan Ainsworth) is Victoria Pedretti, fresh off a stint in the Netflix Series YOU. Pedretti is certainly the highlight of THE HAUNTING and has undoubtedly established herself as a future genre icon. Like her character Nell in Hill House, Dani Clayton (perhaps a reference to The Innocents' director) is just as haunted as Bly Manor itself: her personal ghost providing the season's most startling moments of visual horror. Oliver Jackson-Cohen and Henry Thomas return as well, as The Turn of the Screw characters Peter Quint and the children's uncle, respectively. Thomas reprises his role as a haunted father-figure, however, viewers will be delighted to see Jackson-Cohen doing something else entirely. A particularly special role was also reserved for Kate Siegel, which can only be hinted at here, but is assuredly well worth the wait.
Instead of BLY MANOR revolving around a biological family, as Hill House did, it explores the importance of found family. Housekeeper Hannah Grose (T'Nia Miller), chef Owen (Rahul Kohli), and gardener Jamie (Amelia Eve) round out the new members of the cast, each developing a profound, or conversely troubled, relationship with the disturbed Wingrave children. It must be mentioned that the actors portraying both Miles and Flora Wingrave turn out stellar performances as well, even if the show overall goes a tamer route with its child-horror. Perhaps that trope is a little overdone anyway, or, perhaps a more disturbing fate for the two children could have made BLY MANOR into something truly horrifying.
Capped off with whimsical narration and a framing story that shan't be revealed here, BLY MANOR feels more like a creepy fairytale, lacking Hill House's staunch realism and possible non-supernatural explanation by way of mental illness. In fact, the show's strongest moments are those that lean into its magical realism, which may take some getting used to and certainly defied expectations. Don't expect the same darkness from BLY MANOR, but be prepared for its more fantastical brand of horror. Fantasy can come with a cost, however; my main critique of the show is that it seems to be missing the high caliber emotional gut-punches that Hill House served so well.
As Flanagan has emphasized in BLY MANOR's publicity, this season of THE HAUNTING is at its core a love story – or more accurately, many love stories woven into one. It seems, at times, that the horror becomes secondary to the series' larger themes of how love and loss can linger in a place and in a person. That said, there are plenty of ghosts and frightening imagery; viewers can expect to have the rug pulled out from under them when they least expect it, in classic Mike Flanagan style. BLY MANOR might not have been able to take the place that Hill House holds in my heart, but I am certain that I will be revisiting it just as often. Streaming on Netflix October 9th, BLY MANOR is the perfect way to kick off your October horror binge. I will leave you with what Mike Flanagan wrote in his letter to the press: "Gothic Romance, it turns out, has teeth…and we have had a blast sharpening them for you all."
https://youtu.be/tykS7QfTWMQ