By KEVIN HOOVER
"Frank Zappa once posited the question in one of his album titles, 'Does humor belong in music?'" remarks John Brennan, the affable soundhound and OG cast member of Shudder's subscription-shifting juggernaut The Last Drive-In with Joe Bob Briggs. "I think absolutely it does, and there's not enough of it." To those that ritualize the titular icon's Friday night double-feature celebration of cinema's awesomely odd, Brennan is no stranger. But pigeonholing Joe Bob's hogzilla-chanting huckleberry as just the "music guy" is misinformed, as his own contributions to horror are as impressive as his golden-throated rendition of "Clint Howard (Thank You)."
Kismet led Brennan to Lloyd Kaufman's doorstep and guzzling the Troma Kool-Aid shaped a career that now includes credits on both sides of the lens. When given the opportunity, he writes, scores, acts in, and promotes films that – to borrow a Job Bob-ism – are pretty goddarn good. As The Last Drive-In steamrolls towards its 100th movie premiere on April 29th, Brennan chats up Rue Morgue to discuss the show's continued popularity and why he's not just another pretty face with a guitar.
Most viewers are familiar with your musical contributions on The Last Drive-In, but that's only one of your roles, correct?
I do a few different things. I'm listed as production manager, but I don't necessarily do all of those duties – a lot of that falls on Justin Martell – but I do a ton of other things. I'm guest relations. Sometimes, I pick up people from the airport or get craft services. I shuttle people around and help build the sets. Anything that I'm around to do, I like to do because I come from the Troma system where that's what it was like. Yes, you're Lloyd's assistant, but you're also a producer and the studio liaison. There are a thousand hats you wear at Troma, so once I got into The Last Drive-In, I knew I could do a bunch of different things to help the show succeed.
The Last Drive-In feels like a natural progression for a career that began at Troma. Walk us through the transition.
I started with Troma probably in 2013. I was following Lloyd Kaufman, and he was tweeting about needing volunteers for editors. I was pretty good at editing at the time, so I submitted some of my stuff and they asked me to come in, and I got to edit some of Lloyd's Make Your Own Damn Movie lessons. That blossomed into my full-time career. I got to produce two movies, I was Lloyd's assistant for about five years. I acquired movies. I did almost every job they had to offer. At the time, there were two guys: Justin Martell and Matt Manjourides, who are now executive producers of The Last Drive-In. I co-produced Return to Return to Nuke 'Em High Aka Vol. 2 with Justin. Matt was head of Troma Team Video, and he got one of my songs into the movie, which was a knock-off of Q Lazzarus' "Goodbye Horses." Because of that, he always remembered that I did music. When it came time for The Last Drive-In, Matt asked if I wanted to take a stab at a demo for the theme song and being a huge fan of Monstervision, I said, "Absolutely!" It took me about six hours to put together the demo. They liked it and the rest is history.
What's the process when putting together the musical performances on The Last Drive-In?
With the writing of the show, it starts with Joe Bob, and then Austin (Jennings) gets the script, and they collaborate. And that's essentially what you see onscreen. Occasionally, I'll pitch a musical idea at Austin, and he'll ask what genre I'd like to tackle. Last season, I wanted to do a hip-hop song, and that was great because we had Spookies. There was another time when Austin wanted a mellow piano ballad, and I said, "Well, Clint Howard is going to be on, and I'd love to write a beautiful, soothing song as a tribute to him." They all sort of happen organically based on what's in the script. But sometimes, they already have something ready-made like "Lonely Red Christmas." That was a very specific style they wanted to hit, as far as a sad song everybody can relate to.
Looking back through the show's robust musical catalog, do you have a personal favorite?
I love the theme song, "Joe Bob is Back in Town," and it's probably the highlight of my creative career at this point. I got to make it with my good friends Jimmy Adamson and Levi White, along with some other musicians. Making that song, I envisioned it with muppet zombies and werewolves in a graveyard next to a drive-in, and they see that Joe Bob is coming back, so they're all so excited that they begin to sing this musical number. Obviously, they didn't have enough of a budget to make that happen, but what I love is that sometimes people send me videos of their kids jamming out to "Joe Bob's Back in Town." It lets me know that I did capture some sort of essence of what the Muppets might bring to that song because if kids love it, then I did something correctly. We've done a lot of songs – over 30 up to this point, with more to come – and I love them all, but that's the pinnacle.
With that many pieces under your belt, surely there are a few fun behind-the-scenes stories.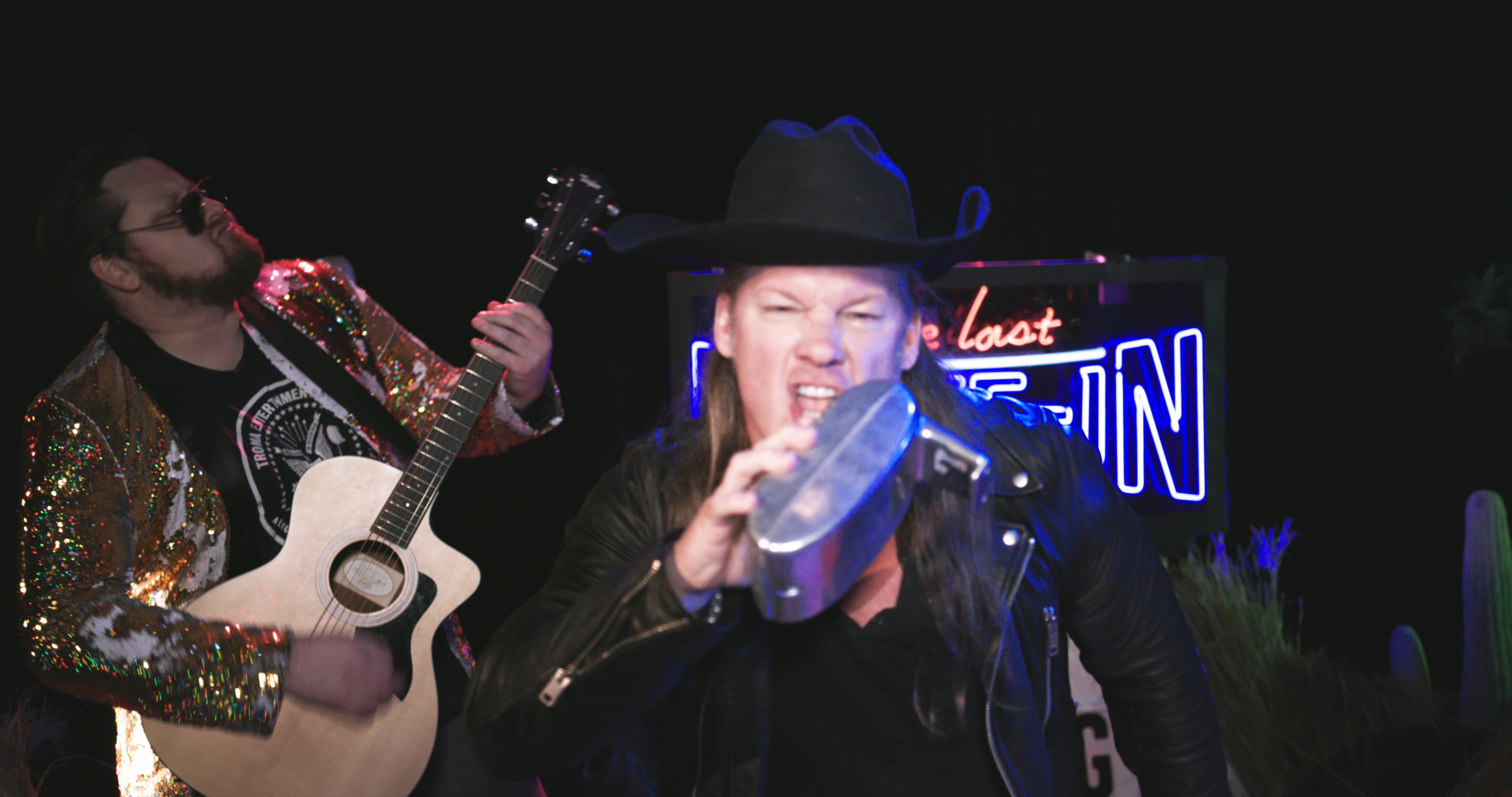 Bloodsucking Freaks – that's a great story because that was the first time I got to work with a celebrity I had never met. I was kind of nervous because Chris Jericho is a huge deal. Austin and Joe Bob had the idea to put in a musical number and said it would be great if Jericho sang it. I worked on one demo, and at the last minute, it got scrapped; Tthere just wasn't enough time to film it. The day before I was leaving for the shoot, I had to write a whole different musical number, and I recorded it in my girlfriend's bathroom. That's what you hear on the show. Then, I met Chris Jericho on set a week later, and he said, "Hey man, I heard your song. I think it's really cool; I'm going to step off for 15 minutes and learn it." He came back and knew every single word and nailed it. The guy is amazing!
Is there a film or guest that hasn't appeared that you'd kill to have – just to be able to create something related?
Yes! My ultimate fantasy episode would be Phantom of the Paradise as the first film, and the guest would be Paul Williams. The man has informed almost every single song I've ever done. "Movin' Right Along" from The Muppet Movie was one of my favorites as a kid, and it's somehow in the DNA of everything I do. It would be great to have him on and do a duet. I would like for it to be a musical night so the second feature would be The Rocky Horror Picture Show. I would really like to get Paul Williams and myself to cover something from that, too. That's my dream!
For your money, what's the quintessential horror movie soundtrack?
The first time I heard the Cannibal Holocaust score … I didn't know what Cannibal Holocaust really was when I first watched it on VHS tape years ago for a Halloween thing I was doing with friends. I'd heard that it was banned in all sorts of countries, so I rented it because it was a notorious horror movie, but I didn't study up on what it was about. This was like the third feature in a long night. We were hungry and had been drinking some beers, and I had a lot of fish sticks in my freezer, so we heated them up. We're eating, and then that Riz Ortolani song started. I stopped because there was this beautiful song that took me to another place, but then the horrors began – the mutilations and the animal killings. The movie was so opposite to what the score was. I feel like Ortolani lulled everybody into a sense of comfort, and then Ruggero Deodato gave you a sucker punch with the imagery. That was the one that affected me the most because for the next three weeks after watching it, that song was in my head.
Seemingly, you're a guy who has a lot of fun when he's keeping busy, and recent efforts like Shakespeare's Shitstorm and the album No Offense, None Taken lend credence to that. Creatively speaking, is there one avenue that you find more satisfying than any other?
Movies and television are hard, hard work. You wake up early, you have to lift things, you have to coordinate with dozens of people that sometimes don't necessarily get what you're trying to do. There are so many things that could go wrong that it's honestly a miracle anytime a movie or a television show gets made and is good. Music is so satisfying because I can take half an hour to write and record a demo and have something that the world can hear. There are not a lot of steps for me to do that. I've written between 700 and 800 songs now – I haven't counted in a couple of years – but there's a reason I've written that many; It's such a joy, and it comes very easily.
That being said, any forthcoming personal projects you want to let us in on?
Tangentially related to The Last Drive-In, the Bigfeet and I are currently writing a record called The Last Drive-Thru. We'll probably open it up with Joe Bob doing the drive-thru totals like "you've got seven cheeseburgers, six orders of fries …" That sort of stuff. And then we'll get into a bunch of songs about food, cars, and heavy metal.
The Last Drive-In with Joe Bob Briggs season premiere airs on Shudder April 29. Stay up-to-date with John Brennan here.