The UK's No.1 horror & fantasy film festival is back in person at the Glasgow Film Theatre, which for 17 glorious years has been FrightFest's second home, as part of the internationally renowned Glasgow Film Festival.
From Thursday, March 10th to Saturday, March 12th, FrightFest opens its terror trove to present twelve tasty treasures; an extravaganza of the dark arts, embracing the latest genre discoveries from around the globe, spanning eight countries in three continents, which includes World, International and UK premieres.
Alan Jones, co-director of FrightFest commentated: "It's with great delight and with every single bloody bell and werewolf whistle available, we can proudly announce that FrightFest Glasgow 2022 will be an awesome in-person event featuring the best new fantasy, horror, and thriller movies, plus all the expected trimmings. 
Despite the gloom and doom being spoken about the future of the film industry in general, it's heartening to learn that genre filmmakers have been as hard at work, creating ever more exciting, diverse, challenging, and stimulating movies – twelve of which FrightFest will unveil over our highly anticipated and crowd-pleasing GFF strand of March 10 – 12."
Thursday night on March 10th kicks FrightFest off with a stand-alone ticket presentation of the blockbuster thriller currently cleaning up at the Russian box office. THE EXECUTION is based on one of the Soviet Union's most contentious crimes concerning a miscarriage of justice and the gruesome exploits of a brutal serial killer. This UK premiere is a transfixing blend of vendetta horror and neo-noir which keeps the plot tangled until the blood-soaked finale.
Want to explore your darkest nightmares? Then join us as FrightFest's two-day event kicks off on Friday with the Scottish premiere of supernatural horror THE CELLAR, from Brendan Muldowney, the critically acclaimed Irish writer/director of Pilgrimage fame. Then we have the World premiere of the extraordinary thriller A CLOUD SO HIGH. The feature directing debut of Christoper Lee Parson is an astonishing high-wire act, a thriller stylized to maximum overload for a uniquely unsettling viewing experience.
Next up is the UK premiere of HOMEBOUND, a creepy and atmospheric chiller in The Innocents tradition, marking the debut feature from director Sebastian Godwin, a 'Screen International Star of Tomorrow.'
This is followed by the UK premiere of extraordinary contemporary fable, YOU ARE NOT MY MOTHER. Rooted in eerie Irish folk horror, this quirky doppelganger mystery marks the arrival of the hugely talented writer/director Kate Dolan, who has been listed as one of Ireland's leading emerging creatives under 30.
It's time to take a hellish, blood-soaked, breakneck-paced, thrill ride into joyous Ozploitation 1970s as the evening climaxes with the UK premiere of WYRMWOOD: APOCALYPSE, the long-overdue sequel to the spectacular 2014 FrightFest Glasgow hit.
Emerging genre talent continues to shine in Saturday's program and the first film on show is the UK premiere of MANDRAKE, an impressive demonic crime thriller by Lynne Davison, making her impressive feature debut. Davison was mentored through the 'Women in Film and TV UK' initiative by Suffragette and Rocks director Sarah Gavron.
Hold on tight for the next presentation – the UK premiere of Howard J Ford's mountain-top pulse-pounder THE LEDGE. The director of Never Let Go has conjured up another suspense-filled, deadly cat and mouse game thriller that will have you holding on to your seat for safety. This is followed by the UK premiere of SOME LIKE IT RARE, an outrageous gory, black comedy written and directed by French humourist Fabrice Eboué.
The evening program opens with the International premiere of MONSTROUS, directed by FrightFest veteran favorite Chris Sivertson (The Lost, I Know Who Killed Me and co-director of All Cheerleaders Die). This unique supernatural thriller stars the iconic Christina Ricci, who unleashes an emotionally powerful performance.
If Fellini directed Schindler's List as a superhero adventure the result would be the next presentation, the Scottish premiere of FREAKS OUT. This astonishing epic fantasy extravaganza comes from Gabriele Mainetti, director of the Italian blockbuster They Call Me Jeeg Robot, who will be attending the festival.
This year's feast of fearsome frights ends with the Scottish premiere of the blood-spattered vampire spoof, LET THE WRONG ONE IN. Starring Anthony Head, director Connor MacMahon has crafted a wonderfully silly and ridiculously rude horror comedy for Shaun of the Dead fans.
In addition, there will be great guests (to be announced soon), Q & A's, shorts, must-have giveaways, and surprise clips.
FrightFest Weekend Passes are £75 and go on sale on Tuesday, February 1st, 2022. Tickets can be ordered online or in-person: Glasgow Film Theatre, 12 Rose Street, Glasgow G3 6RB during normal box office hours.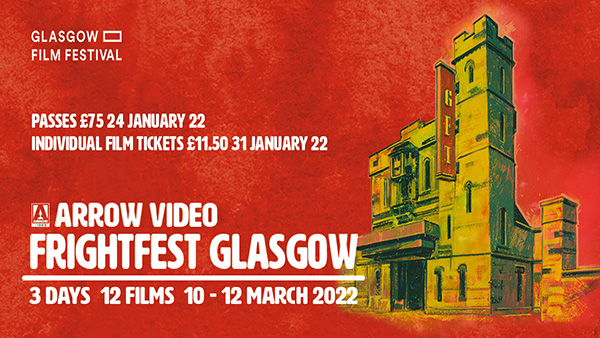 PROGRAM DETAILS
THURS MARCH 10 – GFT Screen 1
20:30 THE EXECUTION (UK Premiere)
Director Lado Kvataniya. Cast Nikoloz Tavadze, Evgeniy Tkachuk, Daniil Spivakovsky. Russia 2021. 2hr10m. 18.
Synopsis: Based on a true crime, hold on tight for a brutal police procedural puzzle unfolding during the last days of the Soviet Union. In 1991, a woman is found, barely alive and bearing the hallmarks of a serial killer supposedly jailed for years. Realising his career-making case has not actually been solved, detective Issa Davydov vows to unmask the real killer by any means necessary.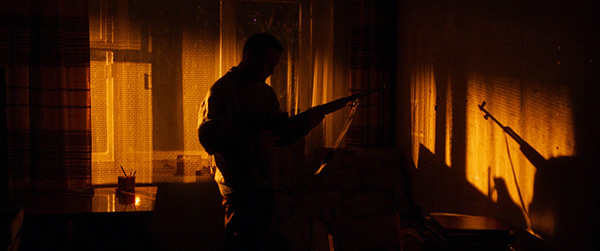 FRI MARCH 11 – GFT Screen 1
13:30 THE CELLAR (UK Premiere)
Director: Brendan Muldowney. Cast: Elisha Cuthbert, Eoin Macken, Dylan Fitzmaurice Brady. Ireland 2022. 1h30m, 18.
Synopsis: Just as they are about to start a fresh life in the country, the Woods family quickly realise there is something not quite right with their new home. For as soon as they arrive Keira' and Brian's daughter Ellie mysteriously vanishes into the cellar, counting a never-ending number of steps as she disappears. Soon they discover there is an ancient and powerful entity controlling their home, one Keira will have to face or risk losing her family's cursed souls forever.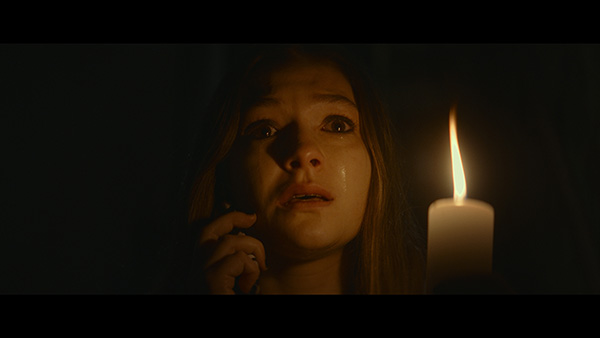 16:00 A CLOUD SO HIGH (World Premiere)
Director: Christopher Lee Parson. Cast: John Savage, Aaron Perilo, Jessica Lundy. USA 2021. 1h41m. 18.
Synopsis: While living under the roof of his aging, disgraced ex-cop father Gene Sarling (John Savage, The Deer Hunter), mentally unstable 22-year-old war veteran Paul (Aaron Perilo, True Blood) evolves from a petty thief and ransacker to brutal killer. And Gene, also a recovering alcoholic, is forced to confront the fiercest nemesis of his entire life: his own son.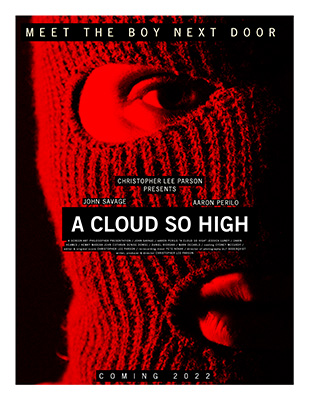 18:30 HOMEBOUND (UK Premiere)
Director: Sebastian Godwin Cast: Aisling Loftus, Tom Goodman-Hill, Raffaella Chapman. UK 2021. 1h22m. 18.
Synopsis: Richard decides to take his new girlfriend Holly home to meets his two estranged children Anna and Ralph. With his ex-wife nowhere to be seen upon their arrival, the couple start trying to repair old wounds and bitter resentments. Initially things go well but then the children devolve into behaving in increasingly unnerving ways until the mood turns completely sour. Soon the strangeness has enveloped every aspect of the visit as the kids start to become threatening.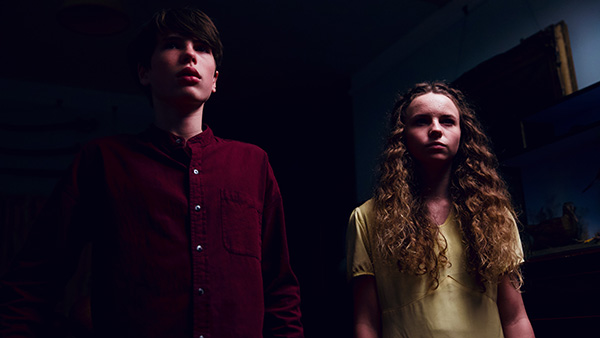 20:45 YOU ARE NOT MY MOTHER (UK Premiere)
Director: Kate Dolan Cast: Paul Reid, Hazel Doupe, Jade Jordan. Ireland 2021. 1hr33m. 18.
Synopsis: Something strange has happened to Angela, her teenage daughter Char is convinced. Ever since her single mother returned home following an inexplicable absence, Char has observed subtle changes in posture, personality, and appetite. Welcome at first — prior to her disappearance Angela had been bedridden and an irresponsible parent – the differences soon become worrying as Char's scrutiny quickly turns to horrified dread. Before long, suppressed secrets and family lies arise along with multiple finely tuned scares.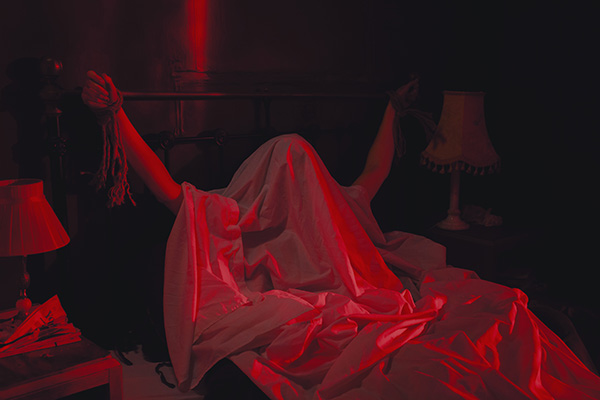 23:00 WYRMWOOD: APOCALYPSE (UK Premiere)
Director: Kiah Roache-Turner. Cast: Jay Gallagher, Bianca Brady, Luke McKenzi. Australia 2021.1hr26m. 18.
Synopsis: Siblings Barry and Brooke join forces with fellow rebels to take on soldier Rhys, The Colonel, and The Surgeon intent on slaughtering their way through a zombie-infested wasteland to find the living dead cure. With barely a moment to catch the breath, and more twists and turns than a pair of wrestling snakes, explosive, outlandish, playful, roaring, no-holds-barred, laugh-out-loud, deranged, gory fun is guaranteed.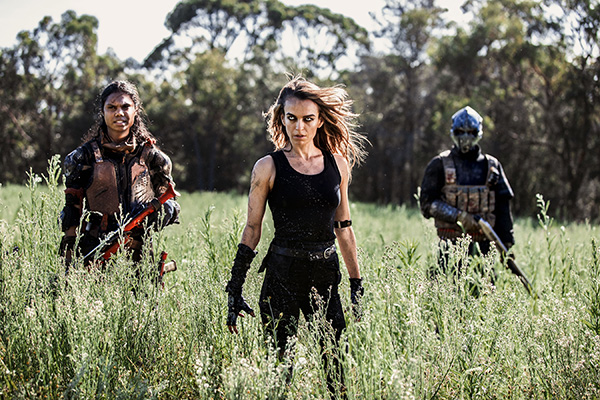 SAT MARCH 12 – GFT Screen 1
10:45 MANDRAKE (UK Premiere)
Director: Lynne Davison. Cast: Deirdre Mullins, Derbhle Crotty, Paul Kennedy. Northern Ireland 2022, 1hr25m, 18,
Synopsis: Probation officer Cathy Madden is given the task of rehabilitating notorious killer 'Bloody' Mary Laidlaw back into society after twenty years of jail. Cathy has always believed that every client deserves a shot at redemption, but her beliefs are firmly tested when two children disappear near Mary's farm. But witchcraft isn't real and there's some good in everyone isn't there? Or that's what Cathy thought until she met Mary Laidlaw.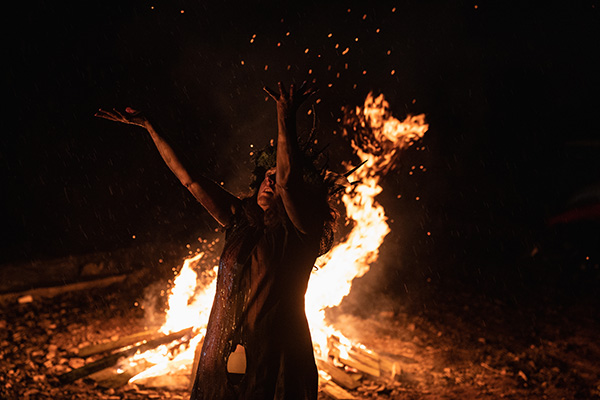 13:00 THE LEDGE (UK Premiere)
Director: Howard J. Ford. Cast: Brittany Ashworth, Ben Lamb, Nathan Welsh. UK 2022. 1hr26m. 18.
Synopsis: Mountain climber Kelly captures on camera her co-backpacker friend Sophie's lifeless body being thrown from a ledge by four men they met earlier and now she must run for her life. Grabbing whatever climbing gear she can, Kelly begins scaling the daunting rock face in order to escape the merciless pack. As day turns to freezing night, and mental and physical exhaustion sets in, all she can do to survive is climb…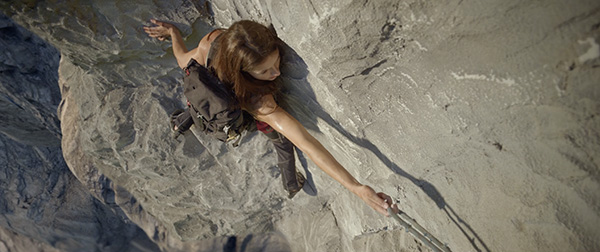 15:15 SOME LIKE IT RARE (UK Premiere)
Director: Fabrice Eboué. Cast: Fabrice Eboué, Marina Foïs, Jean-François Cayrey. France 2021 1h27m. 18
Synopsis: Sophie and Vincent Pascal have run the family butcher shop for a decade, but business is bad. So grim it's on the brink of bankruptcy and so is their marriage. But then Vincent kills a vegan activist who had vandalized their shop. And when he butchers the body and his wife accidentally sells it, customers can't stop lining up for the tender cuts. As the couple fall in love again over the counter, who says murder and cannibalism can't be a delight?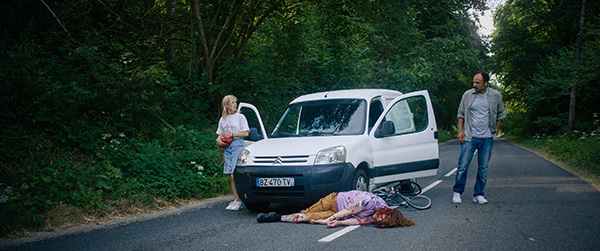 17:45 MONSTROUS (International Premiere)
Director: Chris Sivertson Cast: Christina Ricci, Santino Barnard, Colleen Camp. USA 2022. 1h29m. 18.
Synopsis: Laura (Christina Ricci), traumatized by an abusive relationship, finally runs away from her former husband with her seven-year-old son Cody. But in their new, idyllic and remote sanctuary, they find they have another, bigger and more terrifying monster to deal with…one that will test both their mental health issues to the limit.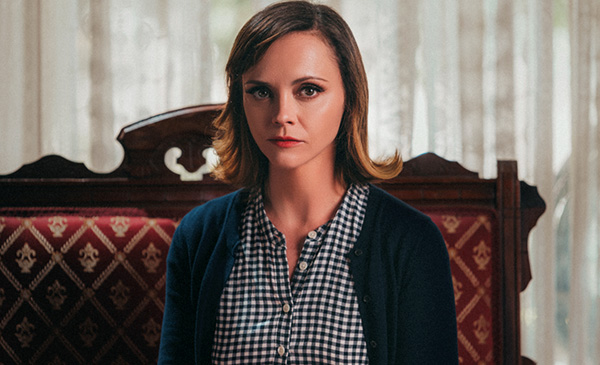 20:00 FREAKS OUT (Scottish Premiere)
Director Gabriele Mainetti. Cast Claudio Santamaria, Aurora Giovinazzo, Pietro Castellitto. Italy 2021. 2hr21m 18. 
Synopsis: In 1943, four circus freaks – Electric Girl Matilde, albino insect controller Cencio, super-strong Manbeast Fulvio and metal manipulator Mario – are tempted to join the Berlin Zircus, on tour in Nazi occupied Rome. Run by six-fingered pianist Franz, his clairvoyant powers have witnessed Hitler's downfall, and he has identified the tight-knit group as the key players to help his depraved plan to change the future fortunes of the Third Reich.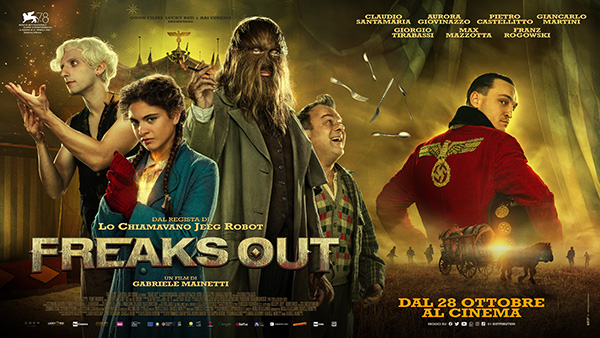 23:00 LET THE WRONG ONE IN (Scottish Premiere)
Director: Connor MacMahon. Cast: Karl Rice, Eoin Duffy, Anthony Head. Ireland 2021.1h36m.18.
Synopsis: When Matt's estranged older brother Deco turns up at his flat looking terrible one morning, Matt figures he's just on another typical loser bender. But Deco's symptoms turn out to be more than a wicked hangover, and his newly grown fangs leave little doubt he's fallen victim to a group of vampires terrorizing Dublin, posing as a group of hard-partying bachelorettes out on the prowl. As a brand-new vampire, Deco needs his brother's help to survive… but he also wants to suck his blood too…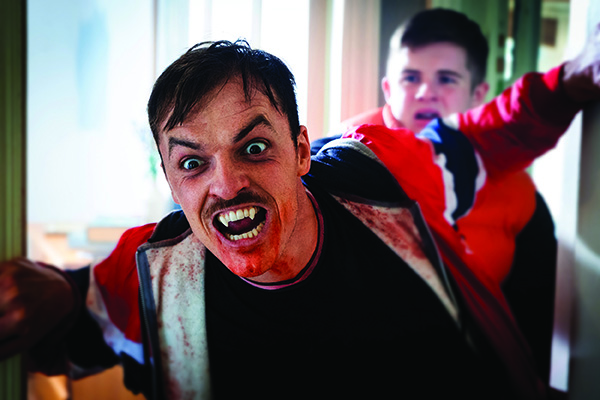 For full program details: http://www.frightfest.co.uk/