[RM contributor Paul Counelis rises from the depths with a new installment of Monster Kid Corner!]
I was a very young boy in the late '70s, and like countless other kids, my first real exposure to monsters was that huge, fire-breathing lizard Godzilla, stomping around Tokyo and making that awesome screechy noise. For a short time, I was truly obsessed with Godzilla – so much so that when Toho released a line of Shogun Warriors, I begged my parents for the Godzilla model, which stood nearly two feet tall and featured a flickering "fire" tongue (and for some weird, unexplained reason, a fist that shot right off of his arm).
On Christmas morning in 1978, I happily unwrapped that big, beautiful beast (thanks, Mama and Papa) and subsequently carried it with me everywhere I went around the neighborhood. He also sat right next to me on Sunday mornings while we watched his big-screen exploits and ate giant bowls of Wheaties. Well, I ate Wheaties; my Toho Godzilla buddy mostly just sat next to me and tried to keep his hand on.
Godzilla is just one – albeit hugely iconic – example of a classic rubber-suit monster. I remember being a little older and discovering via Famous Monsters of Filmland that Godzilla, as well as Ultraman and the beloved Gill Man of Creature from the Black Lagoon fame, were all played by men in rubber suits. It didn't ruin the monsters for me at all; if anything, knowing there was a performer in those costumes intrigued my young mind. I would wonder, "Who plays Godzilla?"
The answer to that and many other monstrous questions is found in the documentary Men in Suits, directed by Frank Woodward of Wyrd Studios. Like the other Wyrd genre docs The Splat Pack and Lovecraft: Fear of the Unknown, Men in Suits is well researched, includes plenty of fun film footage, and maybe most importantly of all, is as entertaining as it is informative.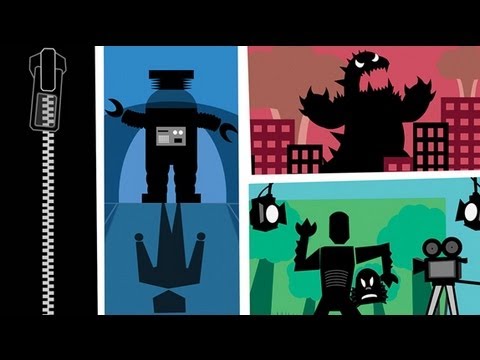 We're essentially given an inside look at what it's like to wear a monster suit, through the eyes of some of the greats – guys like Tom Woodruff Jr., immortal monster kid Bob Burns and the pretzel-like Doug Jones, among others. Jones in particular makes the strongly convincing case that the guys and gals who don these rubber suits are actually actors, and that not just anyone could hop in and do what they do. Clips of Jones' graceful performance as the Pale Man in Pan's Labyrinth should be all the proof anyone needs.
But even beyond that, we're taken on a fascinating journey that begins at basically the same time film became an art form, as the earliest examples of men in gorilla suits and the like are explored in some detail. The most popular costumed characters are recounted right up to the modern era, with a look at the Predator and several other newer monsters.
Practical effects, it seems, are alive and well, and these unheralded actors still provide a service that CGI cannot completely replace. There is, however, a notion put forth in this fascinating doc that the best costumes of today are enhanced with CG features, such as the blinking eyes of Hellboy's wonderful Abe Sapien (another Doug Jones role).
Included with the DVD of Men in Suits is a brilliant, hour-long roundtable discussion with many of the actors featured in the film. Truth be told, I would have paid for this spec as a second DVD feature; it's that much fun. It's in the midst of this panel that we get to meet the monster kid who played our huge, green reptilian buddy, 84-year-old Haruo Nakajima.
Nakajima, speaking through a translator, is charming and funny as he recalls his days of playing Godzilla in so many of those old monster movies. At one point, between making the crowd – and his fellow panelists – erupt with laughter, Nakajima exclaims with a mischievous sparkle in his eyes that he would still play Godzilla, if he only could. And it's easy to believe. If Men in Suits reveals anything to us, it's that the folks behind so many of the best rubber-suited characters in the world are all monster kids at heart.
–
Paul Counelis writes about horror for a number of publications and websites. His latest book, 25 Underrated Horror Films (and The Exorcist), is available here.