Kathleen Edwards isn't a name you'd typically hear in horror music news, but in her latest music video, "Chameleon/Comedian" the Canadian singer-songwriter explores her gory side, expressing herself in a much more visceral manner.
From her critically acclaimed album, Voyageur, this latest music video (directed by Noah Pink) depicts Edwards being stabbed with a kitchen knife, axed in the back, impaled by kitchen utensils, smashed in the head with a wine bottle and even shot through the shoulder with an arrow – all while singing and smiling along like she's having a total blast.
Rue Morgue was lucky enough to get an early link to the video so you can check out the bloodshed for yourself: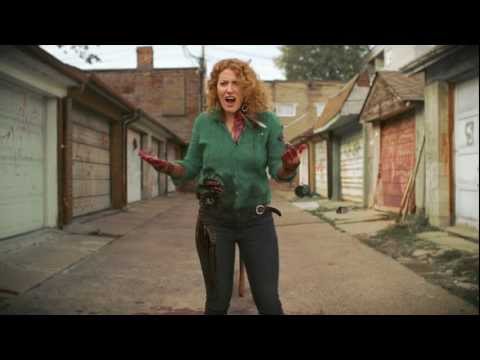 Noah Pink, who has directed several music videos for Canadian talent like Hey Rosetta! and Rich Aucoin, discusses his experience working with Edwards in the press release:
"It was very freeing to work with Kathleen. When she approached me, she said that she was tired of the gluttony of generic music videos out there, and that she wanted to do something different. 'How different?' I asked. 'Let's just go for it,' she said. And so we did. It takes a pretty special person to deal with having an axe, saw, knife, arrow, broken glass and cutlery glued to your body for 15 hours a day while being smothered in fake blood and driven from location to location, not being able to even sit down for fear of breaking the props! My hat goes off to her for being such a good sport."
Voyageur was released on January 17, 2012 and is Edwards' fourth studio album. It was nominated last year for a Polaris Prize, and just recently for two Junos (Adult Alternative Album of the Year, Songwriter of the Year). To read more about Kathleen Edwards and her upcoming projects visit her site.