[RM intern/UK import Charlotte Stear strips away the shiny veneer of British TV comedy and finds -- well, what the hell do you think she finds? Horror, of course.]
Since moving across the pond to these lovely Canadian shores, I've been asked many times what films, music and TV shows I like as naturally, these are the essential qualities to judge people on. I've realised while listing off all the many brilliant TV shows I love just how many of them are deeply influenced by the horror genre, and when I'm met with blank faces it has become clear what my mission is: to inform every one of you horror-loving fans about some British gems that may not be on your radar. Some of them you may be familiar with but if not, let me whet your appetite.
Jam
Jam is a sketch show that aired for one season in 2000 and really separated the horror aficionados from the tourists. Directed by Chris Morris, now best known for his controversial movie Four Lions, Jam pushed the boundaries of decency and humour to the extent that audiences were never exactly sure why they were laughing, or whether they should be in the first place. One classic clip showed a woman calling in a boiler repairman, only to present him with her dead baby for him to fix. What's worse? He succeeded. These harrowing tales will produce laughter from the darkest of places. I mean, if you can laugh at a boiler man attempting to fix a dead baby, they did something right…didn't they? Below is a classic example of how the writers mixed an eerie sense of dread with explosive, sporadic humour.
The League of Gentlemen
I can't think of a show that is more heavily influenced by the horror genre than this one. Written by Mark Gatiss, Reece Shearsmith, Steve Pemberton and Jeremy Dyson – a group of horror nerds who wanted to create something special for the horror-loving masses – League perfectly portrays the bizarre, backward world of a small town exaggerated to the extreme. What makes this show terrifying and hilarious at the same time is how relatable it is to anyone who's ever had to live in a small town cutoff from the big, wide world…maybe that's why this was a favourite of mine as a teenager.
Characters include Tubbs and Edward, an inbred couple who own the village shop and fear anything that isn't local; sadistic career advisor Pauline, whose only friends are the pens she collects; and Papa Lazarou, a circus master minstrel who descends upon the town to collect wives.
One iconic scene that echoes a horror classic sees the angry townsfolk of Royston Vasey descend upon the local shop, believing Tubbs and Edwards are responsible for a sickness that has taken over the town. The couple is celebrating the wedding of their deformed monster son to the local transsexual taxi driver, Barbara, when the villagers turns up to set the shop on fire. Tubbs, Edward and Barbara escape, leaving the son howling in the flames as Tubbs screams, "We belong local!"
The show evokes a Hammer Horror feel and succeeds as a modern day homage to the great legacy of British horror. There is too much to write about this show; it is best simply to start watching it and get sucked in. Here is a taster of Tubbs and Edward: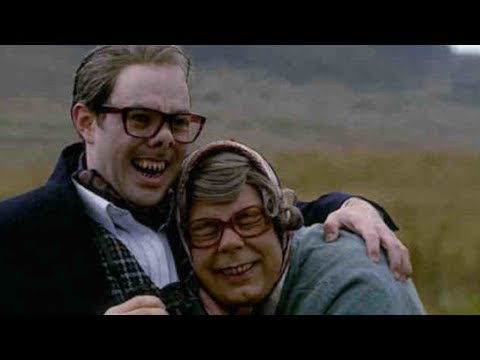 Psychoville
Immediately after finishing The League of Gentlemen you will slip into a pit of depression at the fact that it is over, but fear not! Psychoville is here to get you back on your feet. Seven years after the last season of Gentlemen ended, Reece Shearsmith and Steve Pemberton joined forces again to write and star in this wonderfully macabre show that delves deeper into the psyche of weirdos.
The show follows five characters all over England who each receive an anonymous letter simply saying, "I know what you did." As we follow them about their daily routine, each becomes paranoid about what the letter means and who it's from, and it's clear they have a lot to hide. Psychoville is definitely more chilling and gruesome than Gentlemen; the Halloween special is a particularly disturbing treat, as its movie influences are off the scale.
Personal favourite characters include mother and son serial killers Maureen and David Sowerbutts, who have a confusing relationship to say the least; a nurse who believes a toy doll will turn into a real baby boy; and the one-handed clown who screams "Red raw stump!" when he takes off his prosthetic hand.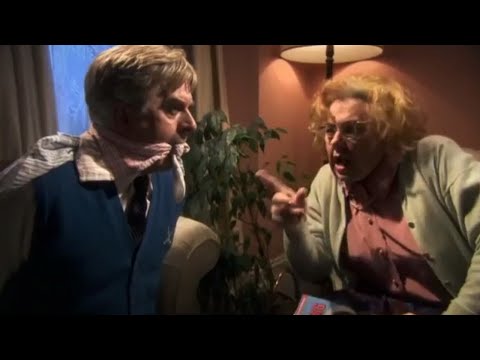 This is Jinsy
Okay, so anyone who has seen this may raise an eyebrow to see it included in this list, but let me tell you something: Beneath this jolly, bright comedy lies the dark seeds of an Orwellian future that none of us want to experience.
What is Jinsy, you may ask? That would be a damn good question. Jinsy is a small island where we follow Arbiter Maven, who looks over the lives of his islanders to enforce the wishes of "The Great He," an unknown entity they must abide. Each of the 791 inhabitants is under constant surveillance and takes part in a number of weird rituals. One such ritual is the wedding lottery, a system that chooses your partner for the next "three cycles" (this episode guest stars David Tennant, who is practically unrecognisable as Mr. Slightlyman, the presenter of the lottery). They also have a talent show that is judged by a dog and a highly entertaining "Punishment Roundup" that is broadcast around the island for ultimate humiliation. Though at first this may just look like the bastard child of a Monty Python and League of Gentleman union, it holds a lot more than meets the eye.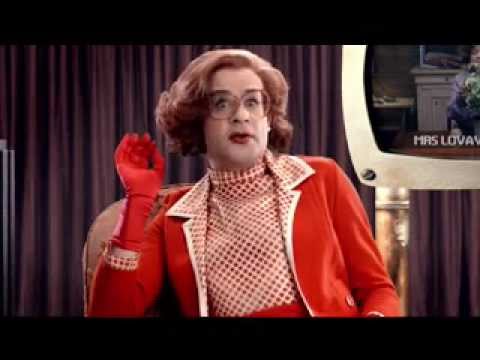 Nighty Night
Nighty Night is a love it or hate it show. It's not an easy watch, and it pushes right past the comfort zone.
Jill Tyrell (Julia Davis) is possibly one of the most selfish and narcissistic characters ever created for the small screen. When we meet her, she's just finding out her husband has cancer; as he goes to start his treatment in the hospital, Jill is down at a dating agency, 100 percent sure she is soon to be a widow. She manipulates the news of her husband's illness to get sympathy from her friends and neighbours, especially Cathy, who is wheelchair bound from multiple sclerosis. Jill has her sights set on Cathy's adulterous husband Don.
With such a detestable main character, this is a cringefest from start to finish. Just when you think it can't get more debauched and disgusting, it does.
Fatal Attraction is a definite influence for this one, and Julia Davis plays a sociopath a little too well, if you ask me.
The Mighty Boosh
The creations of Julian Barratt and Noel Fielding in The Mighty Boosh are like the reoccurring nightmares of an acid trip — well, I would imagine, anyway.
The series follows Vince Noir and Howard Moon, two friends who get caught up in the most ridiculous situations. Each season has a different backdrop that sets up some amazing scenarios. In the first season the boys work at a zoo, in the second they share an apartment with a gorilla and a shaman and in the third they all run an antique shop.
If that doesn't sound entertaining enough, each episode features music written by Fielding and Barratt, and these guys make some pretty catch tunes.
There are a number of iconic characters in the show, from the bright green, cockney hitcher who threatens to slice you up, to a crack fox that lives outside their apartment. But it is Old Gregg who really sums up the insanity of the Boosh and has become one of their most quotable characters. On a weekend away, Howard goes out for a quiet night of fishing but reels in something monstrous and Vince must save him.
Garth Marenghi's Darkplace
This one went a bit unnoticed at the time it originally aired in the UK but has since gained the cult following it rightly deserves. Garth Marenghi's Darkplace is an '80s-flavoured science fiction spoof ostensibly written by and starring fictional horror author Garth Marenghi (played by Matthew Holness). Presented as a lost TV classic filmed in the '80s, Darkplace is set in a hospital situated over the gates of hell. The show is intercut with interviews with Marenghi, his publisher Dean Learner (Richard Ayoade, now star of The IT Crowd) and other cast members as they look back on the production.
Darkplace is purposely filled with bad acting, terrible dialogue and ridiculous voice dubbing, so if you're a fan of anything '80s related, you will howl at this one. One storyline sees a character fall in love with a patient who is slowly turning into cosmic broccoli. Yeah, that's right, cosmic broccoli.
Sadly, Darkplace only lasted one season so we have just six episodes to savour.
Spaced
This post couldn't end without a mention of Spaced, one of the finest shows to come from the UK in recent years. This one will probably be an old favourite for many of you. Whether you checked it out after seeing the superb Shaun of the Dead or were there when the series aired, you will understand the influences and genre nods that made this series so spectacular. The entire series is a movie fan's wet dream for 'spot the film reference.' There is of course one episode that stands above the others, as it was the seed of inspiration behind Edgar Wright's previously mentioned zombie-comedy. When Tim (Simon Pegg) is so heavily committed to his Resident Evil game he becomes part of it and zombies start appearing in his living room, it isn't until Daisy (Jessica Hynes) snaps him out of it with the promise of a cup of tea that he calms down. Small details, from the amazing zombie makeup down to the Evil Dead poster on the wall, make this a resonating episode for horror fans everywhere. To relive this iconic scene, click here.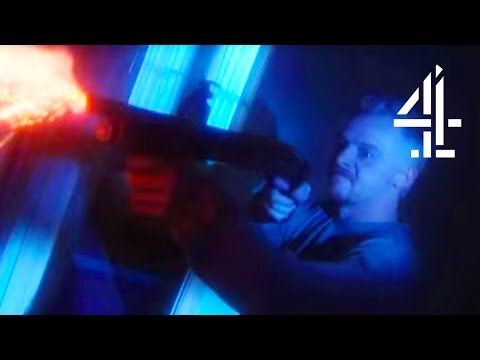 Charlotte Stear