Fans of the kind of smoke-cured heaviness regularly stoked by bands such as Red Fang, Clutch and Kyuss are gonna wanna take a gander at King Giant's new video for "Appomattox," the first track from the band's upcoming sophomore album, Dismal Hollow (available worldwide on Tuesday, January 31 in digipak CD, deluxe digital download and gatefold 180-gram LP via King Giant's own imprint Graveyard Hill Records and The Path Less Traveled Records).
Being that the doom rockers, along with video director/producer Kevin Barker, took to the Appalachian backwoods to lens this zombie-infested epic for the song, they figured the readers of Rue Morgue should be among the first to see it…[pregnant pause]…in the world.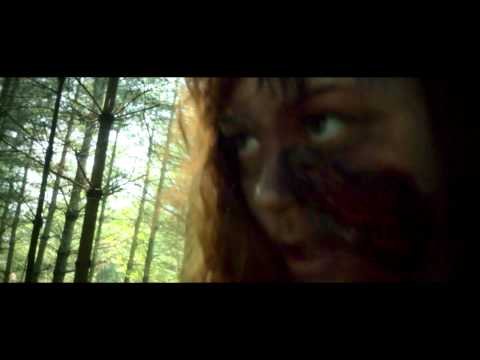 Never ones to look a gift horse in its mouth (believe you me, we look those unpredictably generous fuckers right in their crazy, coal-black eyes), we agreed to exclusively premiere the video…under one condition.
"Gentlemen, have you heard of something called The Sinister Seven? Well, you have now…"
King Giant is:
David Kowalski – rhythm guitar
Todd Ingram – lead guitar
Floyd Lee Walters III – bass
Brooks – drums
Dave Hammerly – vocals
1. What is it about the darker side of Americana that lends itself so well to being the backdrop for horror movies and heavy music?
Dave Kowalski: "…the lowest and vilest alleys in London do not present a more dreadful record of sin than does the smiling and beautiful countryside." – Sherlock Holmes. That's one of my favourite Sir Arthur Conan Doyle quotes. Essentially stating that the isolation of rural communities, coupled with the absence of public scrutiny can hide a hell that can flourish unchecked. Hence, The Texas Chainsaw Massacre, The Hills Have Eyes, The Devil's Rejects, et cetera. In terms of music, I would argue that heavy music is extremely adaptable to any topic dark or not. But to answer the question, themes of alienation, isolation, poverty, paranoia, religion have all found fertile ground in heavy music. While Horror films and Heavy music might share common themes, I've rarely heard heavy music as "scary." It could very well be because of classic conditioning, but I've always thought a pipe organ is infinitely more scary that a distorted guitar.
2. Zombies have pretty much reached their saturation point these days. Why go with a zombie-themed video for "Appomattox?"
Kevin Barker: The intention was to make a video related to the Civil War theme of the song, but at the end of the day we didn't really want to shoot a Civil War music video. I threw out zombies as a complete joke, but then realized about an hour later that there is actually a strange correlation between zombies and the Civil War. It's a good way to illustrate a modern nation turning against itself and a lot of the themes that are in the song.
DK: After the idea sank in, we realized that it would be a lot of work but would also be a whole lot of fun! We quickly learned how much easier it was to recruit extras, makeup artists, et cetera, when the word "zombie" was involved. Ultimately, we didn't care whether or not this will be looked on as being redundant, we knew that it would be incredibly fun! Throughout production, our only concern was that we didn't make it look campy.
3. How involved was the band in designing the look of the zombies and the gore gags?
DK: After the initial pre-production meetings where we all brainstormed and figured out the scope of the project, we didn't have any involvement with the creative direction. Once we all agreed to the concept, we essentially let Kevin run with the all the creative aspects of the video, the script, the makeup style, et cetera. We were more involved from the logistical side of things, raising funds (thank you Kickstarter patrons!), location scouting and recruiting extras. The "vision" for the video was all Kevin's idea.


4. Did all of the special effects sequences go off as planned?
DK: Well, due to a previously unknown injury to my leg, I actually broke my leg during the first day of a two day shoot. Consequently, it rendered the initial script useless, especially for the end of the video, since I wouldn't be able to be on set anymore. Our video team had to adapt and draw up a new alternate script on the fly!
KB: There's a few, but my favourite is when Sherpa (Jeff Mozingo) blows a zombie's head off with a shotgun and the blood splatters on his face. We tried to fling blood on him with a stick but it didn't look convincing. Our DP decided the best approach was to take a huge swig of minty fresh fake blood and spit it on Sherpa. He held a straight face just long enough. I'd say there is 2% gore in this video, a lot of the special effects are left to the imagination. It was a decision that was made primarily to maintain a broader audience. There was definitely a lot more death and destruction intended in the ending but I think the revised ending is more fitting for a music video.
5. What zombie films did you draw upon for inspiration?
KB: I typically try not to saturate myself with influences when I'm working on a project but in this particular case I watched pretty much anything I could find on Netflix or TV. Everything from the original Night of the Living Dead to more modern takes like Zombieland and The Walking Dead. I was also exposed to [the work of ] Lucio Fulci for the first time as well!
6. Do you have any other horror-themed videos in mind for this album?
DK: Not at the moment. It's been hard to think of doing others videos while we had our noses to the grindstone working to get this one done in time for our album release. With that said, once the dust settles I think we'll get the itch to do another video for Dismal Hollow.
7. If you woke up tomorrow to a zombie apocalypse, what's your plan?
KB: I'm heading to Floyd or Sherpa's house!
DK: Everyone rendezvous at the Winchester!
For more on King Giant, please visit:
kinggiant.com
facebook.com/kinggiantband
myspace.com/kinggiant
kinggiant.bandcamp.com
m/